When you go into a German bakery and ask for a German wholegrain bread- this is what you usually get. I can assure you – this wholegrain bread will be as tasty, if not even better than what you expect. If you have someone staying over for dinner and you only have coldcuts- this is what you want to serve.
The wholegrain bread is very easy – you'll succeed without a cooking machine, a mixer or anything fancy. The only things you need are a spoon and a bowl.
For one loaf of this easy wholegrain bread you need:
500g / 17.6oz buttermilk
90g / 3.2oz golden syrup
60g / 2.1oz fresh yeast (or a package of dry yeast = 7g or 0.24oz, which is enough yeast for 500g of flour)
125g / 4.4oz shredded rye
125g / 4.4oz shredded wheat
250g / 8.8oz spelt flour
50g / 1.7oz linseed
50g / 1.7oz sesame seeds
50g / 1.7oz cut hazelnuts
50g / 1.7oz oat
75g / 2.6oz sunflower seeds
10g salt (roughly 2 teaspoons)
1 tsp of your favorite herb (chilli, pepper, caraway, fennel, you name it)
A tiny bit of butter and about 3 tbsp of oatflakes for the form
The great thing about this dough is, you can re-arrange and mix the seeds and ratios as you wish.
For the bread on the photo, I replaced sesame with oats and hazelnuts by pumpkin seeds. Also the golden syrup was replaced by malt extract (to find in any health food store). This bread will work with nearly anything.
If you are going to use sprouts, wash them and carefully dry them
Heat up the buttermilk with golden syrup and dissolve the yeast in the lukewarm fluid.
Mix the shredded rye and wheat, flour and seeds in a bowl. Add the buttermilk-yeast mixture and lastly add salt and herbs. Stir everything well with a (cooking) spoon, so as to obtain a relatively moist soft dough.
Let the dough rise at room temperature for minimum 1 hour. BUT don't wait too long. If you let the yeast work over night, the dough will be quite dry the next morning. If you like bread denser than usual and more compact though, this will be your procedure to follow.
Pre-heat the oven to 220°C (428°F). Put a baking tray with water in the oven to increase the humidity inside.
Butter the baking form and spread the oat flakes in the form as such:
Take out the baking tray with water and put the bread in the oven. Bake for 10 minutes at 220°C (428°F) and afterwards for about 1:15hr at 200°C (392°F). If the bread becomes too dark on top, cover it with baking paper.
After you have taken the bread out of the oven and out of the form, let it cool down on a roast so as to keep it crisp all around. Otherwise the moisture in the loaf may lead to the bread crust becoming soft again on the bottom and the sides.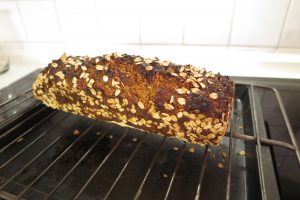 Enjoy my favorite bread of all times however you like: With butter only, with cold cuts, with honey… It's best on the day of baking as the crust is very crisp, but it is great the next days too and is also perfectly fine frozen!
Then pre-heat the oven to 180°C (356°F) and re-bake the defrosted bread for another 10 minutes to get a taste as if it was freshly baked.