Schwerin say "Shverin"- only an hour by car from Hamburg or two hours from Berlin. It is the capital of the federal state Mecklenburg Vorpommern "Meckpomm" or simply MV and home to approximately 100.000 people.
You might wonder, why on earth you should visit Schwerin. It is probably not mentioned in your travel guide "Top 10 cities in Germany" nor have you ever talked to a person in your country, who has been there. Well that is exactly the point. I have to admit, I was thinking the same. You visit Berlin to see Germany's capital, Munich to see the Oktoberfest and possibly Frankfurt Airport… THAT means you have been to Germany. Well in fact it doesn't. Let me tell you, how I came to Schwerin and how I was absolutely taken by surpise:
Well I was island hopping from Rügen to Usedom. There was one night left to spend somewhere else, as the apartment was already occupied for the very last night of the planned trip. So the idea came up to go to Schwerin, as it was basically half way home. Not very romantic and rather practial I have to say. When driving towards the city I didn't expect very much. We drove and drove and suddenly around the corner came this beauty of a castle.


Schwerin Castle
I was more than overwhelmed I must admit. Standing on a little island was this castle with it's golden roof, the little bridge leading to it, and as I found out later a lovely park / garden behind it. Now it is home to the politicians of Schwerin and definitely worth a tour around. They offer guided tours, but the signs put up in every room are giving a lot of information too.
So, walk around the castle and enjoy the gardens with the great view over the lake.
Dome of Schwerin
When walking through the streets, make sure you go up the 220 stairs of the dome in Schwerin. Enjoy the amazing view over the city and of course over to the castle.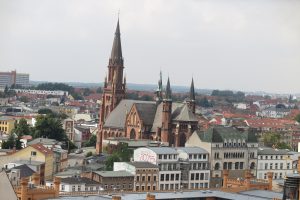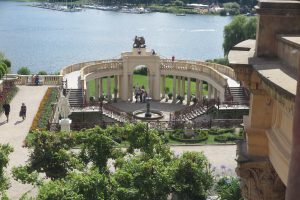 Schwerin Open Air Opera Festival / Schweriner Schlossfestspiele
If you are in Schwerin during summer, and like operas or musicals, get tickets for the Schweriner Schlossfestspiele, that I mentioned already in the post about open air festivals.
Luckily there were still a few seats available so AIDA was on the agenda for the evening. I am not really a big opera fan, but this was impressive. Especially the part before the performance began where we could go see the camels and the elephant (yes true I am not fantasizing). Those were going to be part of the show as well. The stage was built quite high so as to accommodate the musicians under the stage, which limited the view over the stage. Now I know why there were seats available that close to the front. I don't know how the stage is going to look like in 2017 for West Side Story, but consider not to book seats in the first 5 rows or so. By this you will have a better view over the whole stage. Booking website for Schwerin outdoor theater
Guided City Tour
Unfortunately it was too late for me to join, but the tourist office also offers guided tours through Schwerin. It starts at the Historic Market Square in front of the Tourist Information Center (town hall) every day at 11:00 am.
So, have a look around Schwerin, if you are in Hamburg or on beach vacation at one of Germany's Baltic Sea beaches- it is close by and you won't be disappointed! Here is more to find out about Schwerin: Attractions in Schwerin