Here are top 6 things to do in Hamburg on a rainy day:
Unfortunately, Hamburg has quite a few rainy days to offer each year, so you better be prepared. You should know that there is no such thing as bad weather, but only inappropriate clothing. No matter if you do have the right clothes or don't want to be outside, here are my favorites on what to do in Hamburg on a rainy day
1. Miniature Trains – Miniatur Wunderland
Number one is the number one sightseeing attraction in Germany, the miniature wonderland: Little model trains drive through different model countries, though the mountains of Switzerland, through Hamburg, but also through Scandinavia and other parts of America. I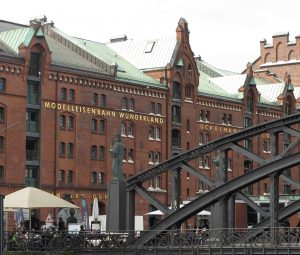 n the very beginning you'll receive a little brochure, where figures have to be found; not only people, but also penguins waiting on a station for a train to arrive. This is not only an attraction for children. I'd say, this is the perfect location for a day out with the family. You can easily spend 3-4 hours in the little wonderland.
Check the Miniatur Wunderland's website, have a look at their video to get an idea of what to expect and reserve a ticket. This will save you a lot of waiting time!
To get there by car use these details: Kehrwieder 4, 20457 Hamburg or, the coordinates: 53° 32′ 38″ N / 9° 59′ 21″ E or take the U3 (yellow line) direction Rathaus / Barmbek and get off at Baumwall, which is only 800m away from the Wonderland in the old warehouse district.
2. Dialogue in the dark / Dialog im Dunkeln
The "Dialog im Dunkeln" is in the Speicherstadt, the old warehouse district as well. This will be the shorter alternative, the tour is about 1.5hours.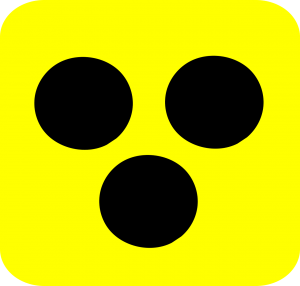 The so-called dialogue in the dark is a guided tour in complete darkness. Here you can experience how blind people's surroundings feel like. You will walk along a street, through a park, through one of the storehouses and also across a market. All in complete darkness, led by a blind person. No worries, you will be save: As this is all re-constructed inside a building, you won't get lost. The dialogue in the dark "Dialog im Dunkeln" might also be interesting for you, if you like to have dinner on a special occasion and eat in complete darkness, dinner in the dark will be something for you. You should reserve a table for that as well.
To get there:By public transport, use the subway U1, exit at "Meßberg", and walk into the direction of Deichtorhallen, or take the Metrobus 3, stop "Bei St. Annen". Alternatively walk 10 minutes from central station or park your car at the car park "Am Sandtorkai 6-8" or Oberbaumbrücke 1. The adress is Alter Wandrahm 4, 20457 Hamburg.
3. Tropical aquarium / Tropenaquarium Hagenbeck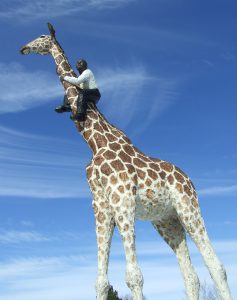 On a rainy and cold day, the last thing you might think of is going to the zoo. But wait, in Hamburg you can go visit the tropical aquarium separately from the zoo Hagenbeck. So, get a ticket and warm up in the tropical aquarium / Tropenaquarium and have a look at 14.300 animals from 300 different species. 
The zoo Hagenbeck and the tropical aquarium can be reached by public transport with line U2 and busses number 22, 39, 181, 281, Bus stop "Hagenbecks Tierpark" or by car: Lokstedter Grenzstraße 2, 22527 Hamburg
4. Waterpark ARRIBA Erlebnisbad
When it is cold and stormy outside and the last thing you want to be is wet, water might be the right answer after all. Go to the Arriba public swimming pool, enjoy their sauna, thermal or wave pool. There are 5 saunas to choose from and 4 water slides. For every desire something to spend the day happily and wet inside.
The website of the Arriba is in German only: The bath is located here: Am Hallenbad 14, 22850 Norderstedt. Type it into your gps or use public transport by taking the subway U1 (blue line) to station "Garstedt". From there go busses number 393 and 178 to the stop "ARRIBA-Bad".
For the moment bear in mind: The Arriba is closed from 5th December to 14th December 2016 due to yearly maintenance.
5. Last but not least: Shopping
There are two great options to go shopping:
AEZ Shopping Center – Alstertal Einkaufszentrum
Of course shopping is a great alternative on a rainy day, especially, if you have one of the biggest malls of Northern Germany right in front of you. On 59.000 m² are 240

stores, from clothes to shoes, from decoration to books and from smoothies to Thai food in the food court… I am sure you'll be able to spend your money wisely… For more info click on the website of the AEZ. Especially during Christmas time it is a great place to be, because of the huge Christmas trees standing in the hallways.
If you go by public transport: Take bus number 8, 24 (Metrobusses), or 174, 176, 178, 179, 276. By subway (S-Bahn) take S1 or S11 to the final station "Poppenbüttel" or go by car and drive to Heegbarg 31, 22391 Hamburg.
Designer Outlet in Neumünster
The Outlet in Neumünster is best to reach by car: Oderstraße 10, 24539 Neumünster. It is about an hour drive from Hamburg, but worth the while. If it is pouing down, I would still recommend the Sopping Center in Poppenbüttel, because you find all shops under one roof and don't have to walk from shop to shop. For more info, on which brands and shops to find at the Outlet in Neumünster, visit their website.
6. Planetarium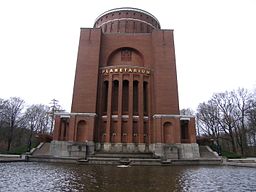 This has to be mentioned, but only in brackets, as it is closed right now: Hamburg's planetarium. It is a not only a great building in the city park, but hosts very nice and interesting shows too. However, due to major construction and improvement for visitors, it is closed until January 2017. After that the Planetarium Hamburg should be on your list of things to do in Hamburg. You find the planetarium at Linnering 1 (Stadtpark), 22299 Hamburg. By subway, take the U3 (yellow line) to "Borgweg (Stadtpark)" and walk about 15 minutes.