Before you get to Kassel, by train, be aware that all, I repeat, ALL long distance trains stop at the station "Kassel Wilhelmshöhe". If you book a ticket to Kassel Hauptbahnhof (main station) you'll find yourself still on the train, waiting for the main station long after you've left the city.

Kassel is located in the middle of Germany. From here you reach Hamburg in 3 hours and Munich in 4, Berlin is a good 3 hours away and Frankfurt only 2.
Herkules und die Wasserspiele / Hercules and the water games
The people can have a very relaxed sleep, in the city of Kassel in northern Hessen. They have a half-god guarding their city.
In 530m on top of the Karls-mountain Hercules, is standing there as an 8m high copper statue overlooking the city. Hercules has been standing at this place since 1717 on top of a huge pyramid, which in turn rests on an octagon, a castle with 8 corners. And by the way, no it wasn't possible for baron Karl, to build everything a little smaller, when he ordered the biggest mountain park in 1696.
After having visited the Hercules, preferably on a Wednesay, Sunday or public holiday, you'll have the chance to see the water games. For this you need to be able to walk about 2.3km (1.4miles) from the Herkules on top to the very bottom. Invented to work with gravity only, this attraction is unique to the world and became UNESCO world heritage in 2013. The water, (to be exact 750m3) is collected in a basin on the very top. After a lid is opened, the water makes its way downhill through different canals, creating a fountain and a waterfall here and there to end in a 50m high fountain at the very end. On days of the water games, you will have to pay for a parking ticket, otherwise it is completely for free and therefore crowded. I brought my dog once, when I didn't know what the games were like. If your dog is used to crowds, fine, but otherwise leave your dog at home, it might be a little too much, especially at the very beginning. Another, I'd say more flexible option is to take the Tram No. 3 to the last stop "Druseltal" and bus no. 22 from there to Hercules. When ending at the fountain, you don't have to go all the way up again, but can catch the tram right in front of you (or your car at the bottom car park, if you wish)
The website is in German only, but if you like to have a look at some pictures: Kassel water games / Wasserspiele
The water games take place from 1st May to 3rd October: Wednesdays, Sundays, public holidays 2:30pm till 4pm.
Schloss Wilhelmshöhe / Castle Wilhelmshöhe
The great thing about castle Wilhelmshöhe is, firstly it is located directly in the middle of the park, where you can go see the water games and Herkules. Secondly it is absolutely stroller and disabled friendly. If you need help or more information, write an e-mail to  besucherdienst@museum-kassel.de or call them +49 (0)561 316 80 123.
Löwenburg / Lioncastle – built to be a ruin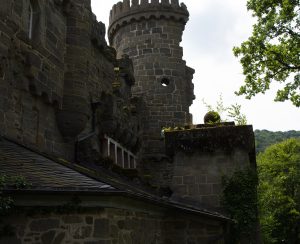 The Löwenburg is also located in the park around castle Wilhelmshöhe. It was built around 1800, but meant to look like a castle from the medieval age. Other castles were meant to endure ages, this one was built with a special tuff, that erodes quickly so as to get the "worn off" look in just a couple of years. These days the castle is mostly a construction site, because of the fast eroding stones. The castle has to be restaurated every 30 years or so. The construction will be ongoing until 2021.
There are guided tours in German every hour on the hour for 4€, duration of 45 minutes. I would say it is still worthwhile joining, because you get to see all the otherwise hidden rooms: One with a wall made of pearls, one with all the armour, collected by Wilhelm IX, which is older than the castle itself. Then there is another room with hunting guns for women and men, a small chapel…
Grimmwelt / Museum of the brothers Grimm
Do you remember, when you were little and heard the fairytales of the brothers Grimm? Kassel is the place where it all began, where Jacob and Wilhelm Grimm started writing and compiling their fairytales. In Kassel the brother Grimm lived for about 30 years. The museum of the Grimm brothers is about the life of the brothers and of course their tales and stories. All descriptions are in German as well as in English. However the visit is more about reading and learning about their lives, instead of an interactive museum with detailed descriptions about all their fairytales.
For more info on the museum, click visit Grimm world / Grimm Welt. If you'd like to book a guided tour, write an email to Kassel Marketing: grimmwelt@kassel-marketing.de or call *49 (0)561 /  70 77 07
Castle Wilhelmsthal / Schloss Wilhelmsthal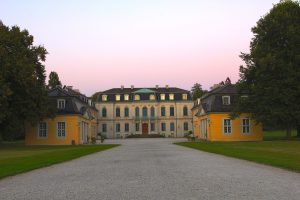 Schloss Wilhelmsthal is just outside Kassel. One of the masterpieces of rococo in Germany. You may visit the castle only during a guided tour. The entrance to the park however is for free.
If you like to have a picnic after visiting any of the attractions mentioned above, you could go to Castle Wilhelmsthal, which is only 15 minutes out of Kassel. If you fancy a picnic all-alone, on a hilly spot overlooking the castle and its little lake, go to castle Wilhelmsthal. Most likely you'll be the only one having a picnic over there.
Documenta
Last but not least there is the Documenta. You have probably heard it about it, as Kassel is called city of the Documenta. It is an art exhibition taking place every 5 years and exhibits art from all over the world throughout the city.
Unfortunately I haven't had the chance to experience the Documenta myself, but next year, 2017, is another one. Then you'll definitely see me chasing the exhibits through the city.
For more info about Kassel and its attractions, see the Kassel website