So, imagine you come to Germany and wonder around in the streets on the sidewalk, admiring the trees to your left and the great old buildings to your right. Suddenly baaam, comes an angry voice shouting at you. You turn around and there is a person on his bike making strange movements with his hand and then continuing mumbling angrily, but leaving you puzzled what the heck you did wrong.
Well that was a bad start, but here is how to avoid the traps and how to get around safely in Germany.
1. Rules
We Germans love our rules. I have to admit I am one of them. We have rules and exemptions for everything. Crossing a red light was a thing I had to "learn" in Argentina. But don't do it in Germany as you might be punished wih a fine, if police or the Ordnungsamt, literally translates into "office of order" catches you.
But first back to the cyclist. When walking on the sidewalk, sometimes you
will see, that there are two different colors on the pavement or there is a round blue sign. Here you have a white bicycle on the left and a woman and her child on the right, separated by a white line. That was the sign you successfully ignored the first time. It means we have one path for the cyclists and one side for the pedestrians. Stay on your side and you're safe.
By the way, if those two are on top of each other, there is no indicated pedestrian or cyclist side and you might be overtaken by a cyclist on both sides. In this case the cyclist will be much more cautious, cause he knows, he doesn't own one lane or the other. Transport- oh yes we do have the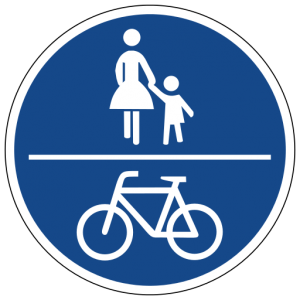 Autobahn and we do love your cars. BUT no, I have to disappoint you, we do have speed limits. However, if you do find a stretch, where there is no speed limit go for it, but please only on the left lane. Not like in the U.S. where you are allowed to overtake wherever you please, here we have the requirement to drive on the right. So unless you are overtaking, drive on the far right like all the trucks. You might have tried and seen there are a lot of people slowly making their way along the Autobahn on the middle lane, but unfortunately, they are wrong and did not pay attention in driving school. Drive on the right, shortly overtake on the left, go back to the right. If you are fast enough, the left lane is yours of course.
2. Long Distance Trains
The Deutsche Bahn, which is the company that operates basically all long distance trains, is the way to go. If you do decide to step on one of these trains a friendly voice will welcome you, first in German and then in well, a better or worse English, quite certainly with a thick German accent. Even we Germans know the farewell sentence "Thänk you for travelling wis Deutsche Bahn, take care and goodbye" by heart and laugh our butts off. The accent is just too bad. Reservations are advisable for longer trips, for example from Hamburg to Munich or during rush hour, especially Friday afternoon. If you want to safe the money for a reservation, which is about 5€, that's fine, but you might end up standing all your journey which can be entertaining, talking to strangers, who are standing, same as you, but….
3. Bureaucracy

While we're at it; If you are traveling in Germany with the Deutsche Bahn and your train is delayed, which they seem to manage quite regularly… More than 60 minutes late or a short delay, which makes you miss your connecting train and therefore your journey being delayed by more than one hour: Go to the next ticket office. Ask for a refund voucher, as they are obliged to reimburse you part of the train ticket. This of course will go hand in hand with a bit of bureaucracy- filling out the form, handing in your original ticket, handing it back to the right person and then waiting a week or two to get your money to the cent exact transferred to your bank account. But more often than not will it be worth the effort.
4. Wifi
If you are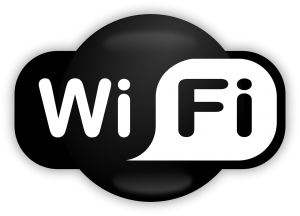 coming from abroad and wonder about in the streets of Germany you might expect fo find community wifi somewhere. But since our regulation is such way that the provider will always be liable, if someone downloads forbidden content, you will only find wifi in some restaurants and cafés. That said, regulations and laws are being changed right now so that people don't have to be afraid to offer wifi anymore.
5. Opening hours
Normally our shops are open during weekdays from about 9 am to 6 or 7 pm. On Saturdays shopping centers will be open until 8 maybe even 10pm, while some small stores will close around lunchtime. On Sundays all shops are closed. So no grocery shopping then, unless you want to spend a fortune at the next petrol station. That said, German bakeries are open Sunday mornings for you to get oven fresh bread and buns for breakfast.
6. Toilets
It has to be mentioned… Don't search for a bin next to the toilet, you may put the paper, and only the paper! in the toilet and flush it.
7. Language
I would dare to say, most people speak a decent English no matter where you go. Bare in mind though, the more you move into the countryside, the worse the foreign language skills will get.
But if you speak slowly and clearly people will always try to help you. If you are in need, write it down. I once did a test to ask for H&M (by the way THE cheap label for any basics you want to buy, unlike the U.S.). Since H&M is pronounced completely different in English than it is in German, writing down, where you want to go will most likely help. Most of the people had no idea where I wanted to go, until I showed them my piece of paper.
8. Bear and Bread
Speaking about breakfast….Especially in Bavaria (Bayern) more than in any other of the 16 Federal States, you will find a gigantic selection of beer. And yes, we do have beer for breakfast, especially in Bavaria. So do yourself (and me) a favor and drink some local beer and not the one you have had all your live at home.
We have a wide selection of breads, buns and pretzels, garnished with all kinds of seeds. That was one of the things I missed the most, while living abroad- good old German bread. So go ahead and try anything you find in a bakery. To me the local cuisine is one of the best experiences you can have for learning more about a country's culture. So, enjoy your meal or "Guten Appetit".