For all those open-air performances and festivals it is quite helpful not to say elementary to speak German. However I would like to introduce some of those performances to you, as you might be able to speak German after all or you just want to see the show and enjoy a theater performance outdoors.
They are out there, you only have to look for something like "Festspiele" and the city you are close to.
Let's start with one that's a little out of league:
Bregenzer Festspiele (Bregenz, actually in Austria)
The open air operas in Bregenz are similar to the ones in northern Germany as they include the lake Bodensee as part of the stage. In fact it is located in Austria, in Bregenz, but so close to the German border that it just had to be included in this list.
Every year there is a new opera being performed of course sung in the original language but with German subtitles. This year it was Madame Butterfly by Puccini, next year – 2023- it will be Verdi's Ernani.
In order to get tickets you need to be quick, as sales start already one year ahead of time. Here you may want to dress up a little bit, but apparently also flip flops have been sighted…
Kaltenberger Rittertunier (Munich, Bavaria)
In the area around Munich there is the competition of the knights in Kaltenberg "Kaltenberger Ritterturnier" the "Tournament of the knights". This not only has to offer an outstanding performance with many knights, fire and a lot of action, but also an medieaval market, where you can buy all sorts of great stuff. When I was younger we went there a couple of times, and I always enjoyed the immersion into medieval times. Tournament of the Knights in Munich
Eutiner Festspiele (Eutin, Schleswig-Holstein)
Moving up to the north to Schleswig-Holstein there are several theaters that have open air performances: There is the Open-Air Opera in Eutin "Eutiner Festspiele"
The specialty of Eutin is "Der Freischütz" by Carl Maria von Weber, which has been performed over 40 times, since the founding of the festival in 1951. They don't perform as many operas as the  "Bayreuther Festspiele", but still are very impressive.
Bayreuther Festspiele (Bayreuth, Bavaria)
Concerning the "Bayreuther Festpiele", I haven't been there myself, but supposedly it is one of the best in Germany. If you'd like to have a more detailed look, check out their website: Open Air Festival in Bayreuth
Störtebeker Festspiele (Ralswiek, Rügen, Mecklenburg Vorpommern)
The next great show, I can highly recommend, again with an interesting setting is the one on Rügen, Germany's biggest island. In Ralswiek there are the "Störtebeker Festspiele", telling the stories of the legend of Störtebeker – the pirate, who was, simply put, our Robin Hood of the seas. At one point he was caught and sentenced to death.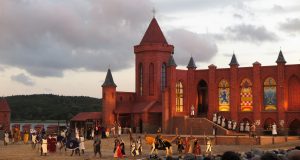 But before he died he got the deal that he would save every man of his crew, he managed to pass without his head. According to the legend he managed to walk past 7 of his men after having been beheaded. Every year one part of seven, I believe, of the legend is presented. So if you want to come back year after year, you'll see something new every time. The stage, again is quite impressive as it is directly at the lake, which is of course included in the performance. Open Air Theater Ralswiek
Karl May Festspiele (Bad Segeberg, Schleswig-Holstein)
The saga of Winnetou and Old Shatterhand takes place in Bad Segeberg Schleswig-Holstein. It is called the "Karl-May Festspiele". The books by Karl May have been performed since 1952 and are great shows year after year. I have been there many times and always enjoyed the horses running through the crowds at a scene , which is right next to an old mountain of lime, making the stunts even more spectacular. Karl May Festival in Bad Segeberg
Schweriner Schlossfestspiele
(Schwerin, Mecklenburg Vorpommern)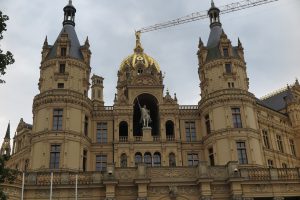 My last recommendation is a little more classic. it is the open air opera festival in Schwerin. The open-air opera festival began in 1993 as an insider tipp  directly next to the castle of Schwerin, which you can see on the picture. Today it is a famous performance amongst opera fans. In 2016 was the last of Verdi's operas, AIDA, for now. For 2017 the musical "West Side Story" is advertised.
For more info have a look at their english website: Open Air Opera Festival Schwerin