This amazing strudel is an old recipe from my Bohemian great-grandmother. No she was not wild and wacky, she was from Bohemia / Moravia. My mum remembers, how she used to come into the kitchen when she was little and see my great-grandma stretching the strudel dough to as thin as possible. Well this is how you do it yourself in just under 2 hours.
Ingredients for the dough
250g / 8.8oz flour
a pinch of salt
100ml / 3.4oz warm water
1 egg
20ml sunflower or rape oil
For the filling
1kg / 2.2lbs apples
100g / 3.5oz breadcrumbs
50g / 1.8 oz butter to roast the breadcrumbs in
120g / 4.2oz sugar
10g / 0.4oz cinnamon
170g / 4oz raisins
10g / 0.4oz lemon juice
a shot of rum
More butter (~ 100g / 3.5oz) to melt and spread on the dough before and after baking
Extra: Vanilla custard: Milk (500ml / 17 fl. oz) and ½ package vanilla pudding powder
Start with the strudel dough by mixing all ingredients together until the dough if peeling away from your hands and table
Form the dough to a ball and have it soak in a small bowl for about 30 minutes. After its bath the strudel dough will be very elastic and easy to stretch.
While the dough is taking its bath, prepare the filling:
If you like, peel the apples, otherwise only pit and cut them in small pieces.
Melt butter in a frying pan, add breadcrumbs and roast until they are golden brown.
Mix cinnamon with sugar
Then mix the strudel filling: apples, cinnamon and sugar, breadcrumbs, raisins, lemon juice, and rum
Now take the dough out of its oil bath and roll it in flour. Roll it flat to a square shape on a floured kitchen towel and stretch it with your hands until it is just holding together, but you can see through the dough easily.
Spread the melted butter on the strudel dough before adding the apple mixture.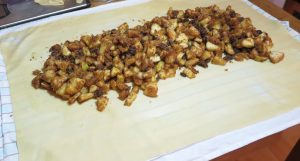 7. Cut off the thick sides and roll the strudel, from the short edge. Fold in both ends before you start to roll
| | |
| --- | --- |
| Cut off the thick sides | Roll the strudel with the help of a towel |
8. Place the strudel carefully on a baking tray either with baking paper or butter.
9. Bake the strudel at 190°C or 375°F for about half an hour until it is golden brown.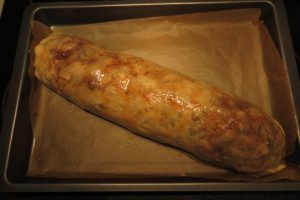 Immediately after taking the strudel out of the oven, apply the rest of the melted butter and have it sit for another 30 minutes.
(If you like add some icing sugar on top) and serve the apple strudel with warm vanilla custard.
If you like to have it as a main course, it serves about a family of 4. If you're having it as dessert, I'd say it is enough for 10-12 portions.