No peeking!! Not yet.
This is Christmas at its best: Have tea and eat a slice of Stollen. With marzipan or without, with butter or without; to me this means Christmas. Every year when we come home on Christmas Eve, we sit down at the coffee table, have tea and wait for Santa Claus. Let me tell you the full story, so you understand why this means Christmas to me. To begin with, in Germany we celebrate Christmas on the 24th of December instead of the 25th in the morning. So, most of us, believe it or not, get to meet Santa Claus in person. Since I was little we always had the pleasure of meeting him in person and because my brother is about 9 years younger than me, Santa seemed to stick around for a couple more years than usual….
So while we were waiting having tea, he always seemed to come at the right time, never missing out on our house. Santa knocked on our door, carrying presents only for the ones, who had a poem or played a piece on an instrument.
The weeks before Christmas, even if it is not yet Christmas Eve, there is already this tickling in my tummy, telling me, to learn my poem, prepare for Christmas and wait there patiently just a few more days….
To kill the time meanwhile, this year I decided to bake a Stollen myself, for you to try as well of course.
Be aware the Stollen has to be wrapped in clingfilm and aluminum foil for at least 2 weeks, so better bake it now, and wait a little longer.
Ingredients for the dough, makes two Stollen
If you like add a packet of marzipan (150-200g at the very end) and add or leave out the candied lemon and orange peel.
1kg / 2.2lbs flour
450g / 1lb butter
500ml / 21cups warm milk
200g / 7oz sugar
100g (2.5 cubes) or 3.5oz fresh yeast
10g / generous pinch salt
each 1 tsp

powder of cinnamon,
cardamom
mace
ginger or alternatively 1 packet of Stollenherbs "Stollengewürz"

1 pinch of clove
1 grated lemon peel (preferably unsprayed)
1 tbsp. almond aroma or 30g bitter almonds
1 tsp. freshly ground ginger
30g / 1 oz chopped candied ginger (often to be found in the sweets section not in the baking section)
250g / 8.8oz /1cup dark raisins
250g / 8.8oz / 1 cup golden raisins (sultanas)
150g / 5oz currants
150g / 5oz almond slivers
If you like: 150g / 5oz diced candied lemon peel and 150g / 5oz diced candied orange peel
100g / 3.5oz marzipan
150g / 5 ¼oz butter
70g / 2.5oz icing sugar
3-4 packets (approx. 80g / 2.8oz) vanilla sugar
Firstly start with the biggest bowl you have available, otherwise you'll find your dough exploring the kitchen, like mine did.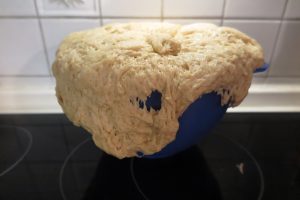 Put the flour in the bowl put a small hill in the middle and crumble the yeast inside. Heat up the milk and add a little milk together with 1 tsp sugar. Reduce yeast milk and sugar to a pulp in the middle of all the flour.
Let it rise for about 45 minutes in a warm spot.
Meanwhile boil water and pour it over the raisins and currants, let it swell for 15 minutes. Afterwards remove the water and dry the fruits carefully with a kitchen towel.
Alternatively, soak the currants and raisins over night in dark rum / amaretto and leave out the almond essence in the recipe.
Cut the candied lemon and orange peel. The best method is to dip a knife into hot water or use a pair of scissors. I left the peel out.
Add the butter to the warm milk until melted.
Mix the dough with butter, milk, sugar, and herbs. Knead the dough well, best is with your hands, until the dough separates from the bowl easily.
Let is sit and rise for another hour.
Now add the raisins, then the almonds, the candied fruits and if you like marzipan. Now it should look like this:
Knead again and let it sit again for about 45min to 1 hour.
Pre-heat the oven to 180°C / 350°F while having a baking tray filled with water inside the oven while pre-heating it, so as to increase the humidity in the oven. By doing this you avoid the Christstollen drying out and building a crust.
If you are the proud owner of a remoska, use that one, as your Stollen might fall apart and will, most likely, not stay in the shape you initially wanted. If you are not so lucky, like me, not owning one, you could alternatively use a baking tin, or no device at all and cover the Stollen with aluminum foil to avoid it from drying out too much.
No matter what you do, bake it for about 50 minutes. During the last 10-15 minutes of baking, the Stollen should not be covered.
When the loaves come out of the oven, dark golden brown, generously brush the remaining 150g (6 ounces,) melted butter over the hot Stollen, letting the butter saturate the loaves, repeating until all the butter is absorbed. Then add vanilla sugar and in the very end icing sugar.
Last but not least, let cool to room temperature and wrap in clingfilm and aluminum foil.For it to develop its flavor let the Stollen age for at least 2 weeks, in a cool place, but not in the fridge. Some say 4-6 weeks is even better, but that might be a little too much to ask for. However if you do want to try, the Stollen might be even tastier…You sealed the pores with the melted butter, which is why the loaves can be stored for weeks and even frozen for at least a month.
Bon Appetit and a lovely Christmas Season.